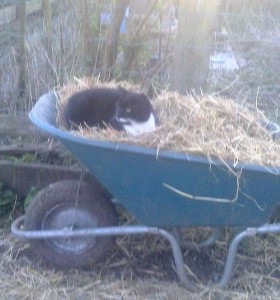 The Really Wild Sisters, Smoke and Flame are really quite tame now and have been joined by a black and white boy called Jack. He found us and although I tried to re-home him, he came back, so now he's here to stay.
Of the 3 Amigos who came as adult ferals from the Cat's Protection League – Uno is a bit scared of Jack and has chosen to live in the fields, dine on rabbit and sunbathe on my neighbours patio.
Dos disappeared as soon as he was let out one year ago, but has been spotted coming in for food lately!
Tres, initially scared off by Jack is getting braver and will come and find me when he is hungry, most days.
Not a sniff of any mice in the stables, these cats are worth it , and are always entertaining!