Shop
Sorry folks but with the rising cost of EVERYTHING – Soap making ingredients, those VERY essential oils – not forgetting costs of keeping my own goats – they need to eat! Soaps have gone up by 10p per bar- still good value I think – you are all valued customers and we thank you for your custom!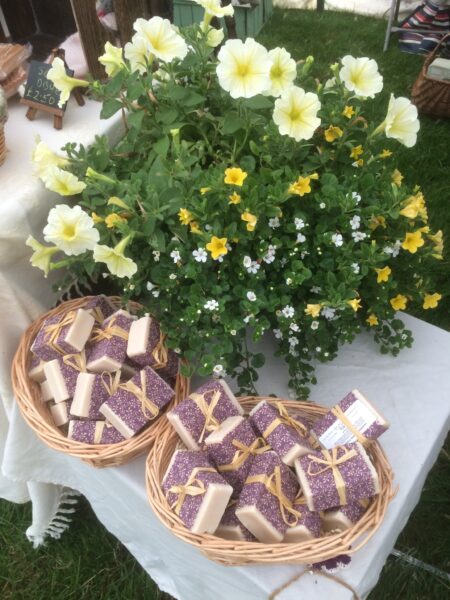 I make all the soaps by hand from fresh milk provided by my own herd of pedigree goats. My soap has no chemical additives, artificial fragrances or colours and has not been tested on animals. The recipe has been checked by a registered chemist and given a safety certificate.
The soap has the same PH as our own skin, allowing the skin to retain it's natural moisture. Also included in my recipe are gentle coconut, olive and sustainably sourced palm oils, all excellent for nourishing and conditioning the skin, while Shea butter is added for a touch of luxury.
Olive oil is anti-inflammatory, so helpful to eczema, psoriasis and dermatitis.
The lactic acid in goatsmilk soap gently breaks down the bonds on dead skin cells. That's why skin is left fresh and new, and problem skin conditions can be helped.
I use Certified Sustainable Palm Oil in my soap. I feel very strongly about the environment and climate change. So why palm oil? Weird… right?? If you have feelings/queries/questions please go to my article on the "Debate on Palm Oil" on this website.
Twelve scented soaps have added essential oils which may be relaxing, uplifting, or a favourite scent just to be enjoyed, while Unscented Goats Milk Soap has a naturally creamy fragrance.
Lavender & Rosemary soap with added Poppy Seeds aids exfoliation and helps keep the hands of a gardener (or anyone with hard working hands) in good condition.
Those with very sensitive skin, psoriasis, eczema, or dermatitis should find my goatsmilk soap helpful. Some of the essential oils used are particularly helpful for these conditions, for example, Sandalwood, Patchouli, Lavender or Geranium.
Ingredients and allergens are listed on the label on each soap.